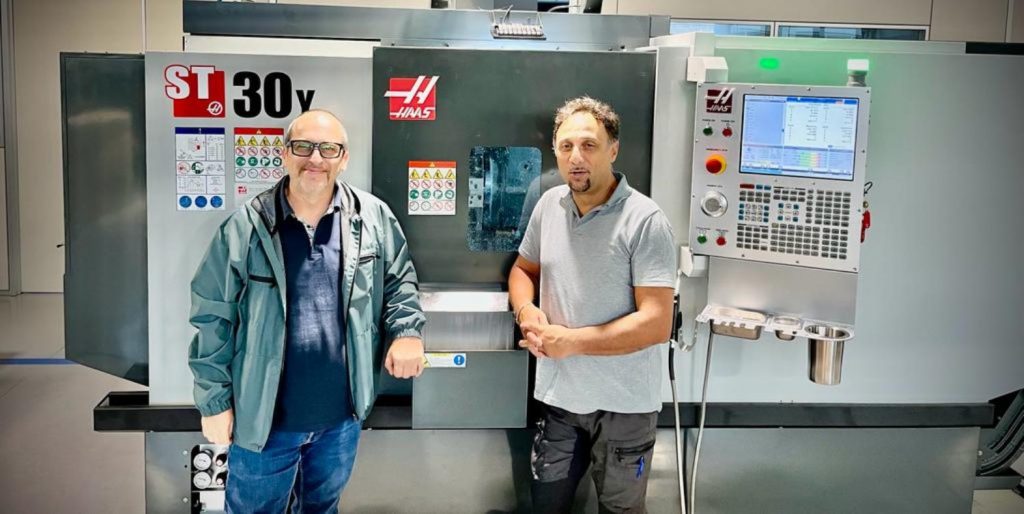 Aerosystems machine shop benefits from new CNC Lathe HAAS ST30Y
Our Machine Shop recently got a new Haas CNC lathe ST30Y.
Celada Group and Binetti & Forlani has supplied Aerosystems factory in Angera with the brand-new HAAS ST-30Y as part of a wider investment made by the company to help it increase its productivity levels and maintain its competitive edge.
The shop's new addition will benefit our technicians who have been getting by with three HAAS CNC lathes. Stefano Zambra, CEO of Aerosystems, said "This new big lathe will help technician immensely in their CNC work. We are very happy to have it. This latest arrival at our manufacturing facility in Angera represents an important investment in Aerosystems operations. Demand for Aerosystems machined products continues to increase and the purchase of a new big CNC lathe reflects this, automation investment holds the key to continued growth and profitability for leading aerospace companies. Aerosystems has met another milestone in the growth of its machine shop."
The new HAAS ST-30Y CNC Lathe Machine it's being installed as this post is being written.
The new HAAS ST-30Y has a medium footprint, yet provides a generous work envelope. The addition of Y-axis and live tooling allows milling, drilling, and tapping for increased machine capabilities. This machine offers the best performance for the money – the best value – in its class.
The Haas ST Series high-performance turning centers were designed from the ground up to provide setup flexibility, extreme rigidity, and high thermal stability.
Our new Big Boy, the HAAS CNC lathe ST-30Y is "sitting pretty" closer to his brothers ST-15Y and  ST-20Y in our workshop. 
Aerosystems – Precision Aerospace Components is a full-service, family-owned company specializing in the manufacture of precision parts and assemblies for the aerospace market. Our experienced staff can rapidly take a project from concept or prototype to finished assembly, giving customers a competitive market advantage.
Read more about Us and our History: www.aerosystems.it/aboutus/
Industry: Aerospace & Defense, Industry
Location: Angera, Varese, Italy
Current Machines: HAAS Lathe ST-15Y, HAAS Lathe ST-25Y, HAAS Lathe ST-30Y, Schaublin Lathe 125, Schaublin Lathe SV125, Datron Neo mill, Leadwell Mill, MOMAC Lathe SV180, SISMA Laser Welding Machine, Ultimaker S3, Mercury Laser Machine.
The Largest Machine Tool Builder in the U.S. Founded in 1983 by Gene Haas, HAAS Automation is the largest machine tool builder in the United States, and one of the largest builders of CNC machines in the world. We manufacture a complete line of CNC vertical machining centers, horizontal machining centers, turning centers, 5-axis machining centers, and rotary products, as well as a wide selection of fully integrated automation solutions, including automatic parts loaders, pallet-pool systems, and 6-axis robot systems.
LOCAL HFO – HAAS FACTORY OUTLET Operated by Celada
Via Carlo Urbani 10, Cologno Monzese, MI 20093 – Italy
Website: http://haas-italia.com

HAAS MOTORSPORTS - F1 TEAM
Haas CNC Machines & Racing: A Winning Combination
There's a reason Haas F1 and NASCAR race teams use Haas machines. Not only Haas is a top innovator in the machine tool industry, but close involvement in motorsports also means that Haas machines are uniquely suited for the OE and aftermarket automotive industries.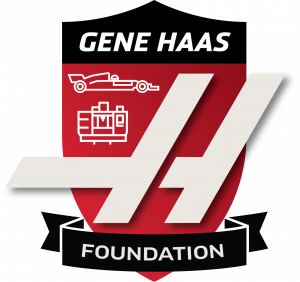 GENE HAAS FOUNDATION
The Gene Haas Foundation was established in 1999, by Gene Haas, founder and owner of Haas Automation, Inc., to support the needs of the local community, through grants to such local charities as the Boys and Girls Clubs, Food Share, Rescue Mission, and others.
Seeing a growing need for skilled manufacturing employees industry wide, the Foundation expanded its mission to include support for manufacturing training programs throughout North America and beyond. By providing scholarship grants, sponsoring individual and team CNC competitions, and partnering with the very best CNC training programs in the world, the Foundation helps expand the availability of high-quality manufacturing technology training worldwide.
The Gene Haas Foundation donates millions of dollars every year to manufacturing education and the community. In 2020, the Gene Haas Foundation provided more than $20 million in grants, bringing the total since inception to more than to $120 million.