Aerosystems is leader in the design, development, manufacturing and testing of high performance Windshield Wiping and Washing Systems for the aviation market.
Aerosystems supply aerospace product range with a capability to develop special configurations addressing system specific envelope, weight noise, power and system interface requirements. We provide highly reliable complete Wiper Systems for military and civil aerospace customers worldwide.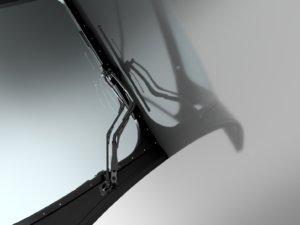 Full Windscreen Wash and Wipe Systems
Aerosystems develops and manufactures a wide range of complete Windshield Wash and Wipe Systems designed on customer requirements and used by leading manufacturers of helicopters and aircrafts.
Aerosystems can provide customized solutions for any windshield and application, a wide range of wiper arms and blades with and without spray nozzle.
Aerosystems Wiper Systems products consists of: Wiper Motors, ECU Electronic Control Units, Arms Mechanisms with different angles, different models of wiper blades and jet nozzles.
Our wiper blades, with compact and aerodynamic beam-type structure studied for an effective action for high speeds and types of aircrafts.
Aerosystems products are specifically designed to operate in severe environments, while delivering effective, efficient and highly reliable wiping performances.
Our Engineering Department can design custom, or modify existing, Wiper Systems for a wide variety of applications.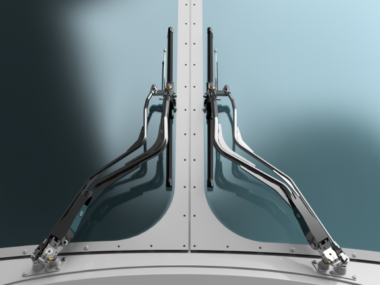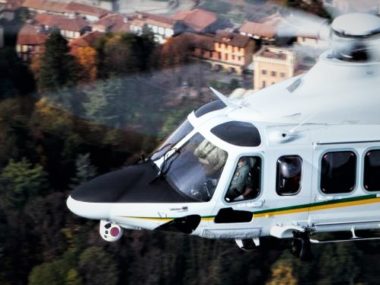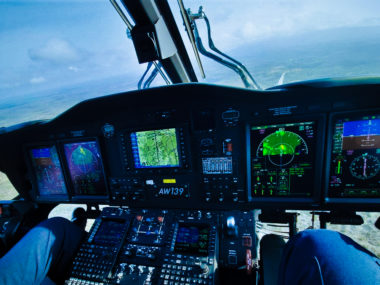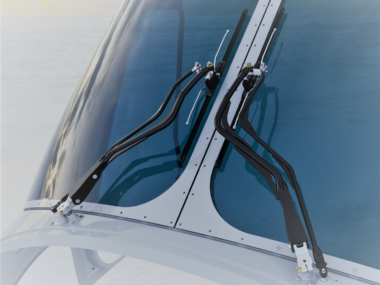 Full Helicopter Windshiled Wash and Wipe Wiper System
The Aerosystems AC/Helicopter Wiper Systems are kinematic pantograph-style wiper arms designed in a manner to optimize the wiping area on the windscreen. The arms geometry was designed to minimize the obscuration of pilot/co-pilot visibility when the wiper blades are in park position.
Robust Design type made of aluminium rugged type with a MIL-A-8625 blackened opaque finish surface to avoid reflections.
Articulated motion is obtained with the help of two arms which provides kinematics boundary in order to maintain the blade always vertical in front of the windshield and allow, with parallelogram motion, a swept area of a defined angle (geometry and swept angle are customized according to vehicle actuator/motor stroke).
Wiper Arms allows to angle tuning option: regulation of angle variation steps or fine regulation.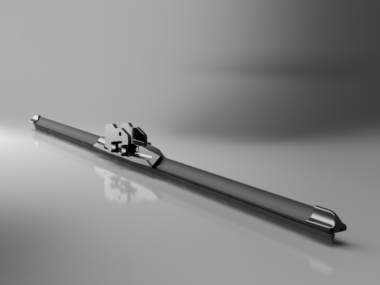 Aerosystems Beam Blades

Aerosystems Wiper Blades are unconventional "Beam Blade Type" of different lengths with a memory curve steel beam providing uniform pressure for the clearest wipe and delivers uniform pressure across the entire windshield to eliminate streaks.
Conventional wiper blades are not designed for wind resistance. High speeds lead to high winds and that strong wind resistance can cause separation between the wiper blade and windshield. This separation is known as wind lift. Wind lift can lead to poor performance.
Aerosystems Beam Wiper Blades offers different benefits and features compared to a typical conventional blade.
The most noticeable difference is in the design of the blade itself. Windshields weren't always curved like they are today and because of it, windshield wipers had to match the older, flatter design. Nowadays, beam blades are designed to match the curvature of modern-day windshields, ultimately leading to better coverage between wiper blade and windshield. Wiper coverage on a windshield is based upon various contact or pressure points. The more pressure points, the greater the wiper pressure. Conventional or traditional wiper blades are designed with only six to eight contact points while beam blades feature an infinite number of pressure points. Infinite pressure points ensure that the entire length of the wiper blade will remain in contact with the windshield.
Aerosystems beam Wiper Blades feature a Spoiler with a unique Aerodynamic Design that converts strong wind into maximum force between the wiper and the windshield, maximizing pressure and keeping the blade affixed tightly to the windshield.
Wiper Blades are easily replaceable without the use of special tools and allows quick and easy replacement.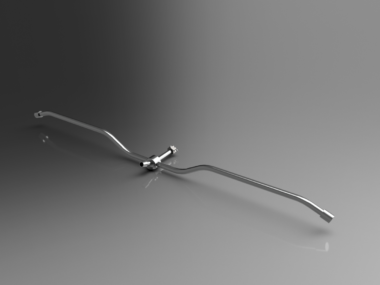 Aerosystems Spray Nozzles

Laser welded, Stainless Steel Spray Nozzles.
Optional (Left or Right installation).
Aerosystems Wiper Systems and Wiper Blades can be provided with corrosion resistant Stainless Steel Spray Nozzles to be connected to the washing kit (by the means of a Rubber Hose passing through the main arm) distributing washing fluid uniformly over the windshield surface ensuring efficient washing operations. Our Spray Nozzles are made by Laser Welding technology.
Aerosystems Wiper Systems

Aerosystems have been supplying leading companies all over the world within the aerospace and non-automotive industry with our innovative and reliable wiper systems.
Safe and user-friendly wiper systems designed to fit each individual windscreen perfectly – regardless of size, angle or position.
Each system is the result of a unique project developed specifically for each application, achieving the maximum performance of the product and ensuring the required visibility area for the cab of each vehicle or aircraft.
Aerosystems has a wide range of Wiper Systems and Blades, with compact and aerodynamic structure studied for an effective action both for different speeds and types of vehicles.
High Safety: Our Wiper Systems avoid overload caused by snow or ice. This smart feature prevents damage to the wiper system.
Low weight: Smaller wiper system thanks to intelligent mechatronics and efficient cleaning systems
Improved comfort – Low-noise operation and optimized cleaning performance
Aerosystems Wiper Systems are fully qualified as Airborne Equipment RTCA-DO160 and MILSTD-810 and installed in many Helicopters and Airplanes.