Aerosystems is leader in the design, development, manufacturing of Gear Pumps and Motor Groups.
We provide highly reliable aerospace Pumps and Motor Groups for military and civil aerospace customers worldwide.
Aerosystems Oil Pumps and Motor Groups have supported some of the most stringent Military and Aerospace airplanes and helicopter programs. Our pumps are specifically designed to operate in severe environments, while delivering effective, efficient and highly reliable pressure solutions.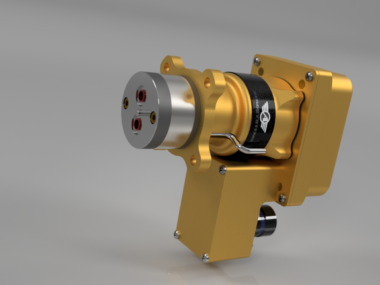 P&MG Pump and Motor Group
Dimensions: Compact design and dimensions, length 120 mm, including controller
Pump Type: Rotary micro annular gear technology
Flow: 500 ccc/min at 60 Bar
Proof Pressure: 90 Bar
Burst Pressure: 165 Bar
Life: Long service life
Motor: Precision Brushless Motor and Control Unit with EMI/EMC and lightning protection.
Connector: MIL-D-38999 Series
Weight: 0,7 Kg
Operating Temperature Range: -40°C +70°C
Hydraulic Fluids:  MIL-PRF-83282, MIL-H-5606
The Aerosystems Pump and Motor Group (P&MG) is a Micro Anular Volumetric Gear Pump with the function to generate the hydraulic power required. To the main assets of the device belong high precision, low pulsation, low volume dosage even of non-lubricating liquids or at high pressures, compact design and an integrated microcontroller. The pump allows dosage in a broad viscosity range. The P&MG targets applications in industrial production and process technology. The pump has been designed for continuous delivery and discrete dosage of oil, water, watery solutions, solvents, methanol, oil, lubricants, adhesives, inks and paints as well as other high viscosity liquids.
The unit is composed by a high-precision volumetric pump, driven by a 28V Brushless DC Motor, connected with an Electronic Control and E.M.I. Filter Board. High differential pressures achievable also for low viscosity liquids
The P&MG is an airborne equipment designed and qualified in compliance with RTCA/DO-160.
Aerosystems offer many customizations on request: custom pump sizes, sealed motor and electronic case, special connectors or cabling, reduction gears, heating modules, and reservoirs.
Please use our request form and describe your application, so we can determine the optimal product for your design-in.