Aerosystems provide Sick Sensors Solutions, Detection and Ranging applications for the aviation market.
AEROSYSTEMS S.r.l. is announcing his partnership with SICK Italy, the Italian subsidiary of the SICK Group, one of the world's leading producers of sensors and sensor solutions for industrial applications. With this partnership, local aerospace companies and corporations will have better access to innovative sensor and safety solutions from SICK. Read the Presse Release.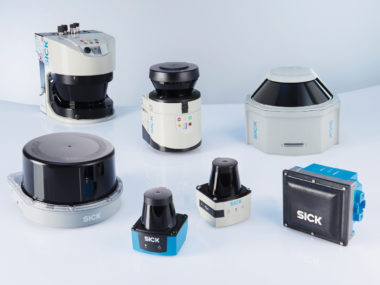 2D LiDAR sensors
Reliable measurement data, irrespective of the mounting position
2D LiDAR sensors (2D laser scanners as well) are suitable for performing detection and ranging tasks on surfaces.
Regardless of the angle of installation, SICK 2D LiDAR sensors operate with consistent reliability and accuracy, and can be used both indoors and outdoors. For navigation, detection, or measurement: 2D LiDAR sensors supply reliable measurement data for a whole host of tasks.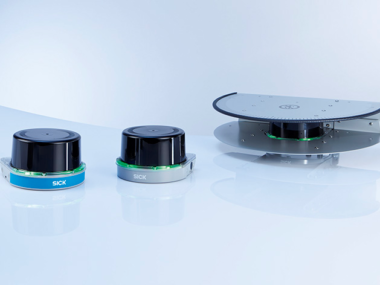 3D LiDAR sensors
Scanning in three dimensions
3D LiDAR sensors (3D laser scanners as well) detect their environment nearly gap-free, regardless of whether the objects move or not. That is why 3D LiDAR sensors are ideally suited for tasks such as collision protection on automated vehicles or the scanning of objects.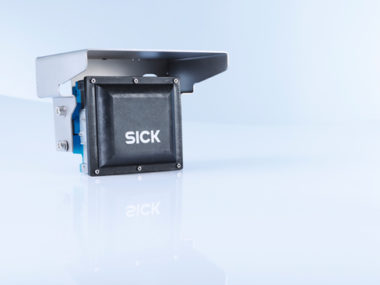 Radar Systems
Developed for maximum availability. Whatever the weather, radar sensors provide reliable detection of any object which falls within their detection cones. This makes them ideal for collision avoidance and driver assistance.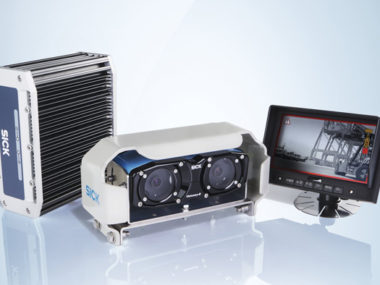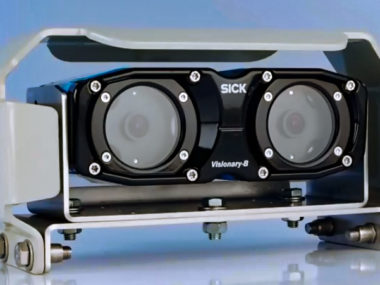 Visionary-B 3D assistance system
3D snapshot – two-eye principle for effective use in outdoor environments
Thanks to the innovative 3D snapshot technology and its rugged mechanical design, the Visionary-B 3D vision sensor from SICK is ideally suited for harsh outdoor environments, e.g., ports, construction sites, or in agriculture. The Visionary-B uses the stereoscopic principle to deliver both 2D images and 3D data with every snapshot. Depending on the application, all the raw data and the intelligent image processing results can be transferred in the form of object classifications and position determinations. As a driver assistance system with a monitor and live image, Visionary-B provides a rugged, easily configurable 3D collision warning system that is quickly operational and actively warns the driver, acoustically and visually, in critical situations.
At a glance
Distance values: 250 × 496 pixels and 2D image: 544 × 828 pixels;
High temperature range from −40 °C to +75 °C;
Rugged housing: IP69K for the sensor head;
2-in-1 solution: eight 3D and eight 2D images per second;
Intelligent image processing: classification and position determination of objects;
Activity recording for the most recent hours possible;
Designed for harsh outdoor conditions, e.g., strong sunlight, rain;
Intelligent data processing with object detection and classification allows, for example, object tracking and collision warning;
Visionary-B PS provides 3D data, 2D video images and object data via Gigabit Ethernet as well as a programming interface;
Visionary-B CV is an intelligent, easily configurable 3D driver assistance system with a monitor for the driver's cab that outputs active optical and acoustic warnings;
The Visionary-B is a Plug-and-Play system easy to install.
The mission of Aerosystems is to help create the next generation of successful airplanes and helicopters by providing solutions and resources needed to develop, prototype, test, and commercialize safe products.
SICK is a trusted manufacturer of sensor technology in the field of Laser Sensors. LiDAR technology from SICK can be used for safety and navigation and machine vision systems. With SICK's product portfolio, Aerosystems customers will gain better access to sensor technology needed to help their machines operate efficiently and safely.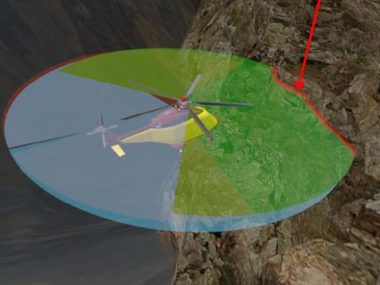 SICK LMS LiDAR was chosen as the best solution for Helicopter "Collision Avoidance Safety System" developed by Aerosystems. The LMS LiDAR, named Laser Sensor Unit (LSU), customized, configured and tested by Aerosystems for aerospace applications, is now part of helicopters collision avoidance systems destined for Search and Rescue (SAR) deployment and Offshore services. The LMS is a SICK electro-optical laser measurement sensor that electro-sensitively scans the perimeter of its surroundings in a plane with the aid of laser beams.
Helicopters operating in SAR operations are often required to fly near obstacles – rocks, trees, buildings, antennas and so on – in daylight or darkness and in adverse climatic conditions. Aerosystems wanted to provide the pilots with a sophisticated collision avoidance system that would aid the pilot by indicating the distance of the helicopter from these obstacles.
The system is based on a set of 3 Aerosystems Laser Sensor Unit (LSU), the data from which are collected by a computer and displayed in the cockpit. The system consists of three main rotor-head-mounted LiDAR (Laser imaging Detection and Ranging) sensors that generate a 360 degrees radial view around the aircraft and a dedicated cockpit control panel. The system ensures fast and accurate detection and tracking of short-range obstacles up to 25 m (80 ft) away by time-of-flight measurement at different angles. Pilots can operate and monitor the system from the control panel while video and audio indications are provided on the Multi-Function Displays (MFDs) and through aircraft inter communication system (ICS).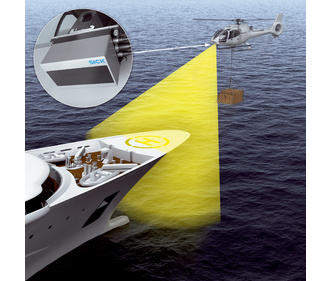 Monitoring Lowering Helicopters
If yachts are supplied with food or fuel from the air, helicopters must keep a safe distance from the ship superstructures during delivery. In addition, the material must be laid down gently. The ship must keep a stable course during this time. Course correction information is transmitted to the ship's steering system. Alternatively, the sensors can also be installed on the helicopter.
Product family LD-MRS
Rugged multi-layer scanner for harsh environments
Simultaneous measurements on up to 8 scan planes
Weatherproof thanks to multi-echo technology and IP69K enclosure rating
Lightweight, compact design: Approx. 0.77 kg / 1 kg
Wide temperature range: –40 °C to +70 °C
Low power consumption: 8 watts
Different angular resolutions in the scanning range are available
Integrated object tracking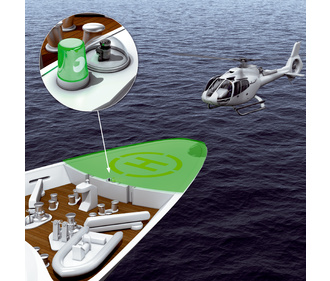 Positioning Helicopters

Yacht owners and passengers usually want to get onto the ship as quickly as possible. For this reason all large yachts are equipped with helicopter landing pads. To ensure safe landing and that the landing space can be approved, LiDAR sensors monitor danger zones and detect possible objects in the hazardous area. The sensors are elegantly integrated in the ship's design under glass domes.
Compact and economical, even in harsh environments
Efficient and cost-effective 2D LiDAR sensors for measuring ranges of up to 50 m
Outstanding performance whatever the weather, thanks to multi-echo technology and intelligent algorithms
Rugged, compact housing with enclosure rating up to IP 67, integrated heating, and a temperature range of –40 °C to +60 °C
Variants for security applications with relay outputs and VdS certification available
Measurement data output via Ethernet interface in real time
Number of digital outputs can be expanded via external CAN modules