Aerosystems is leader in the design, development, manufacturing and testing of high performance AC and Brushless DC Fans, Blowers and ECS Environmental Control Systems.
Aerosystems supply aerospace ECS product range with a capability to develop special configurations addressing system specific space, weight noise, power and system interface requirements. We provide highly reliable AC and Brushless DC motors, Fans, Blowers, and Ventilation Systems for military and civil aerospace customers worldwide. Our ECS fans control renewal of air, ambient temperature inside the cockpit and cabin and smoke detection to provide the ultimate in comfort and safety to passengers and flight crews.
Aerosystems AC and Brushless DC Fans and Blowers and ECS Systems have supported some of the most stringent Military and Aerospace airplanes and helicopter programs. Our ECS products are specifically designed to operate in severe environments, while delivering effective, efficient and highly reliable airflow and pressure solutions.
Our Engineering Department can design custom, or modify existing, fans and blowers for a wide variety of applications.
Our fans are conceptually designed using streamline software used to generate a three-dimensional blading and CFD Analysis used to optimize the blade design for performance and noise reduction. Aerosystems utilizes 3D Stereolithography SLA generated investment castings and/or multi-axis machining to rapidly and produce and test prototypes.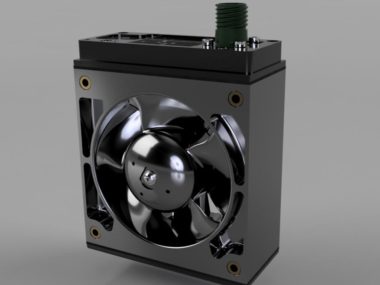 BRUSHLESS COCKPIT COOLING FAN

Motor Type: 2 Speed 28 Vdc Brushless Outrunner motor
Speed (RPM): 11000 Low Speed,  17000 High Speed
Flow rate:
Low Speed – 113 m³/h, 210 Pa
High Speed – 180 m³/h, 500 Pa
Connection Type: MIL-D-38999
Operating Temperature range: -40°C to +70°C
EMI/EMC Lightning Protection
Qualification: RTCA-DO160
Aerosystems Brushless Cooling Fans are suitable for the distribution of the air in the cockpit and cabin ventilation systems, and for providing cooling to avionic bays, electrinc equipment and also for windshield defrosting.
Lightweight body, parts made of PEEK Polymer, propeller with aerodynamic impeller improved blades, high efficiency Brushless Motor, EMI filtering circuitry and fully integrated electronics characterize Aerosystems fans.
Environmentally resistant, it has been designed for applications that may require exposure to harsh environment.
These products combine long life expectations of Brushless Motor with maximum cooling and air moving capability.
Our Brushless Cooling Fans are designed for use in tightly packaged airborne black boxes or bays where sizes and weight must be held to an absolute minimum, where reliability is critical, and where high heat loads must be dissipated with cooling air.
Aerosystems Brushless Cooling Fans are fully qualified Airborne Equipment RTCA-DO160 and MILSTD-810 and installed in many Helicopters and Airplanes.
Custom Options: 1 or 2 speeds; RPMs settings; 24 or 28 Vdc.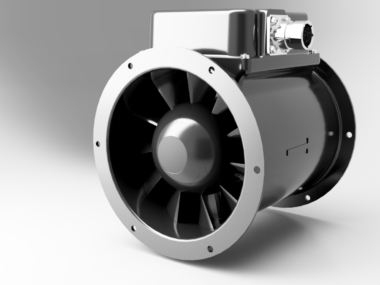 CABIN AVIONIC BAY FAN

Air flow: 720 m3/h
Voltage: 115/200 Vac (nominal)
Frequency: 400 Hz
Phases: three (four wire)
Current consumption: 8 A
Rotation Nominal Speed: 12000 RPM
Temperature Range: -40 +70°C
The Cabin Avionic Bay Fan is a mixed-flow fan (Vane-Axial), self-contained, with impeller and case assembly, made of self extinguishing material. Our AC Electric Motors are designed to meet the applicable requirements of MIL-M-7969 and is asynchronous, quadripole, closed able of continuous operation on two phases.
This fan is made of an electric motor, a case, an impeller and an electronic circuit, coupled together as a unit. The fan is equipped with a RPM control system which will provide a Low Speed Caution Signal (80% of nominal speed). In the operating mode the fan force the airflow into the air distribution ducts of the aircraft.
EFIS COOLING FAN – SMALL BRUSHLESS FAN

Fan Type: Mini Vaneaxial
Motor Type: 1 Speed 28 Vdc Brushless motor
Speed (RPM): 12000
Flow rate: 43 m³/h, 250 Pa
Connection Type: MIL-D-38999
Operating Temperature range: -40°C to +75°C
EMI/EMC Lightning Protection
Qualification: RTCA-DO160
Aerosystems Mini Vaneaxial Brushless EFIS Fans are made by high efficiency profiled impeller directly coupled to the brushless motor shaft and enclosed in a small lightweight body that operates as a container tube for the impeller. It is completely made in PEEK Polymer. The body is shaped with a streamlined nozzle designed to drive the airflow and to reach the best performances in terms of air speed, airflow and pressure. The fan has a non-stall characteristic and is capable of continuous operation at any volume flow. The fan is mainly used for cooling the Electronic Flight Instrument System (EFIS). Shieding EMI filter and electronic control board are integrated. Aerosystems Mini Vaneaxial Brushless Fans are fully qualified as Airborne Equipment RTCADO160.
Options: Non-return Valve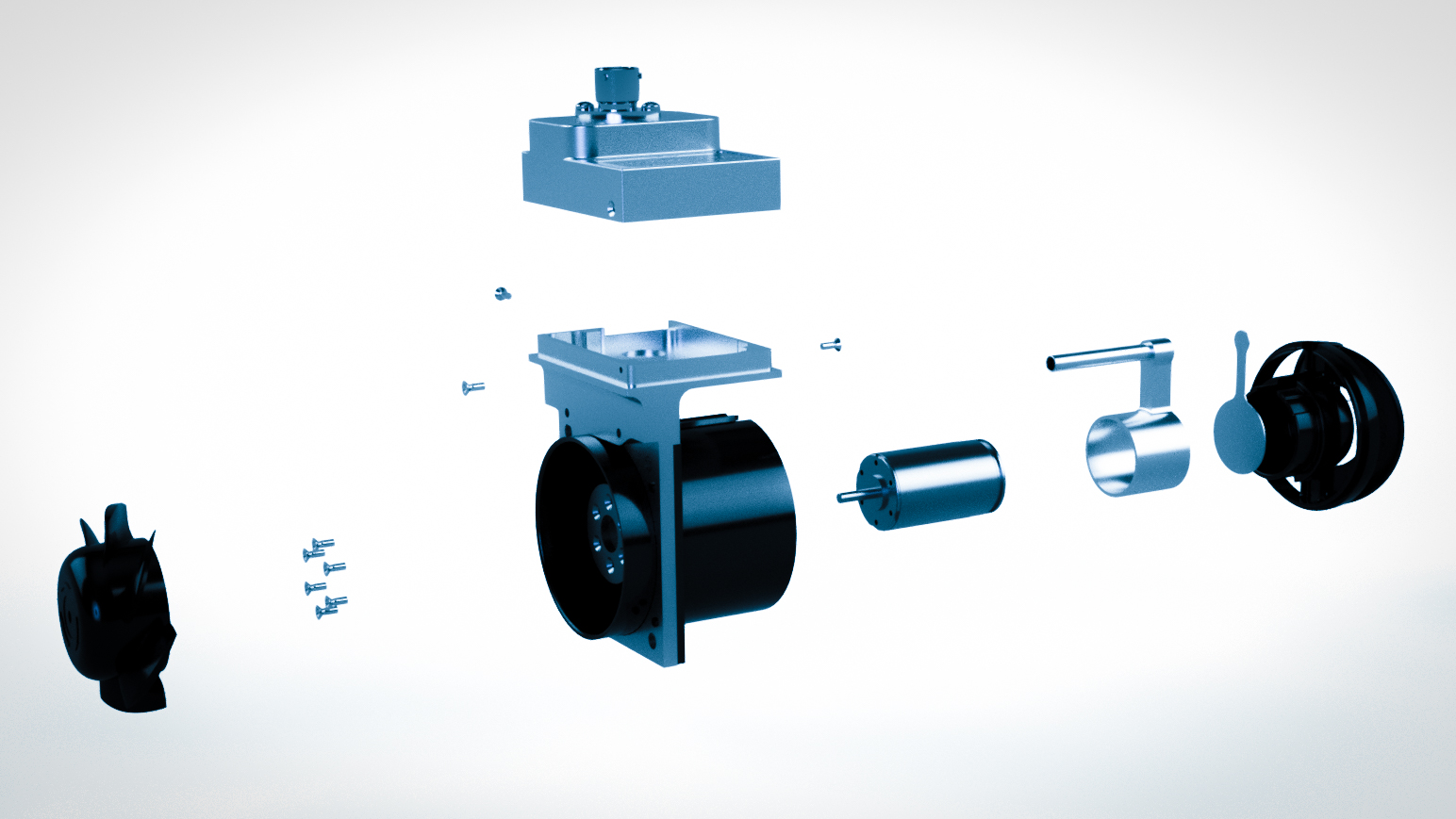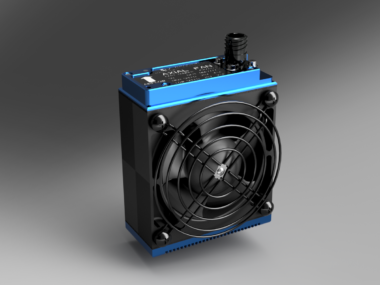 AXIAL FAN 7010000
Aerosystems is announcing its latest addition to the
Cooling Fans portfolio
with the
AXIAL FAN 7010000
, an upgraded version of its predecessors. The new AXIAL FAN is the ideal cooling solution for compact systems where high cooling performance is the key. Its high-performance airflow gives the AXIAL FAN an impressive cooling capacity of up to 210 m
3
/h and can be powered 24 or 28 Vdc. The new AXIAL FAN Part Number 7010000 is a cooling and ventilation fan device originally developed for the application on Aircraft ECS Environmental Control Systems and for Industrial applications, to cool electronics, power modules and can be used on Machinery Systems or Vehicles.